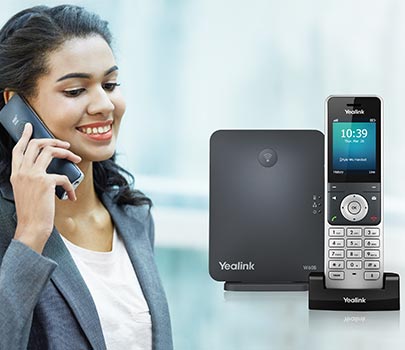 Perhaps you've heard about all the great benefits VoIP can offer your business and you're considering making the switch yourself. Perhaps you're a new business looking for the best communication system out there and you're reading this guide for clarity. Whatever your reason, we break down what VoIP is, why it's better than traditional systems and how we can help your small business see the benefits.
What is VoIP?
Voice over Internet Protocol (VoIP) is technology that allows businesses to make calls using the internet, as opposed to through phone lines. VoIP phone systems translate sound signals into digital data, passing through a server before connecting with the internet. Similarly, hosted VoIP routes your calls over the internet via secure data centres – so you can make and receive calls via VoIP.
How Does VoIP Differ From Traditional Phone/Internet Services?
Allows you to make phone calls using the internet instead of traditional phone lines.
VoIP Providers handle everything offsite.
No additional on-site hardware.
Plug and Play.
Keep your existing phone number or choose a local area code number.
What Do You Need to Implement VoIP?
Broadband connection with a good bandwidth and internal network.
SIP-enabled phones, such as the Yealink T21, to make VoIP calls.
What Benefits Will A Small Business See With VoIP?
Cost Reduction: VoIP is significantly less expensive than traditional phone lines. There is much less hardware to buy or lease and call costs are much lower. Expert Market even claim call charges are 50% lower with VoIP than with traditional phone providers.
Flexibility: Not only is the system portable and operational from any location with internet connectivity, ensuring employees can connect from anywhere without incurring charges, but your business phone numbers are associated with you wherever you are, maintaining a trusted and respectable reputation with the clients and customers you call.
Growth Opportunities: As your business grows, so can your VoIP capabilities. Extra telephones and other devices can be seamlessly integrated to the benefit of your business, and should you require new features such as 'on hold marketing' and call pick up groups then many providers allow these add-ons.
Access to Great Features: Hunt groups, voicemail, instant messaging, audio/video conferencing.
Another great feature is the virtual receptionist that gives callers customizable messages which directs them to the correct departments and employees.
Why You Should Use Our VoIP System
Infinitel CloudFusion is a cloud-based, business VoIP phone system which offers a full set of calling features. All for one, low monthly cost. CloudFusion is great for businesses of all sizes. Functions include:
HD Voice Quality
Voicemail
Virtual Receptionist
Hunt Groups
Conferencing
Management Portal
Infinitel Benefits Include:
No need to buy, lease or pay maintenance fees on your office phone system – Your phone system is delivered over your internet connection.
Save money – You can save more than 50% on your office phone bills.
Easy to setup – Plug & play and easy to setup with no engineer visits or installation costs.
Go mobile – Connect all your staff, locations and devices with a single phone system.
How Do We Compare With Other Companies?
We only work with businesses, so we understand exactly what level of service you need and expect.
We are cheaper, more reliable and place emphasis on customer care.
We employ industry expects who know the technology and systems inside out.
To find out how we can help your business, click here. We'd also like to hear from you. Contact our professional and helpful team on 0333 996 0029 or at [email protected] for additional information.