In July 2019, Microsoft announced Skype for Business Online will be retired on July 31, 2021, giving businesses two years to plan their transition to Microsoft Teams. Microsoft Teams has been the fastest growing app over the last few years and now has 145 million daily active users, however, thousands of organisations are still using Skype for Business Online. Skype for Business has served many businesses as a trusted communication solution for many years, particularly for its voice calling and video conferencing capabilities. Of course, there's never time to stand still – things are always changing, developing, and improving, which is great news for businesses, as it means that they are being given better, more effective products to use on a daily basis. Rather than simply being a unified communications tool, such as Skype for Business, Microsoft Teams is a collaboration platform bringing together chats, calls and meetings in a single application. Teams is being positioned by Microsoft as "the Hub for Teamwork in Office 365".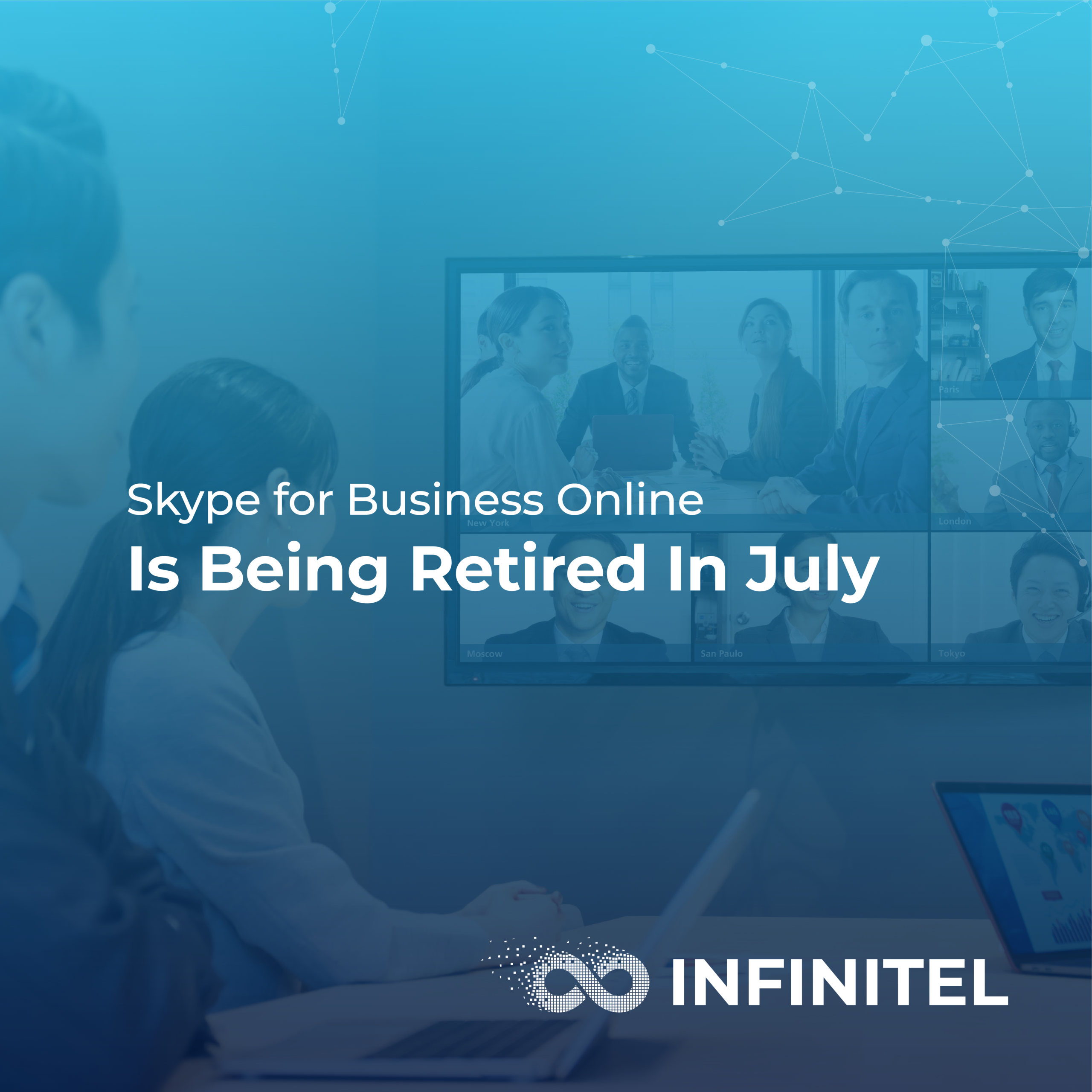 As a Skype for Business user, you don't need to worry as Microsoft announced that Teams achieved feature parity with Skype for Business online back in 2018. This means organisations can comfortably upgrade from Skype to Teams without sacrificing features, benefitting from a single tool to communicate and collaborate, boosting your productivity further than ever before. For those who are looking for more information on Skype for Business' retirement and replacing Skype with Teams, be sure to read on! 
Alternatively, you can find new methods to communicate within your business by getting in touch with our expert telecommunications team here at Infinitel. We've got a wealth of experience across a range of industries, which enables our team to help you craft solutions that are tailored to the specific obstacles that you'll be facing as a business. 
Why is it being retired?
The first question you probably want to ask is "why is Skype for Business being retired?" – As of September 2019, Microsoft Teams became the default collaboration tool for chats, calls and meetings, for all new Office 365 customers. Simply put, Skype for Business Online is being retired in favour of Microsoft Teams, which offers a more complete, unified, collaboration platform. 
Microsoft wanted to build an integrated collaboration platform that works seamlessly with applications in Office 365. Although Skype has evolved significantly since it was launched, its development has been limited due to its aging architecture. As a result, Microsoft built Teams which is built around cloud architecture and provides a considerably larger number of features.
Skype for Business will be retired on July 31st 2021, so until then you'll still be able to continue using Skype for Business Online, but if you haven't already done so, we would suggest that you start planning your migration now. The clock is ticking. This will help you to avoid any gaps in service or loss of productivity at the end of July. If you're a business that adopted Microsoft 365 after September 1st 2019, just sit back and relax; you've already been onboarded directly to Microsoft Teams as the default for chats, meetings, and calling!

What will replace it?
As we have already mentioned, organisations will be required to upgrade to Microsoft Teams. 
Although Teams has its roots in Skype for Business, the two are very different solutions. Microsoft Teams provides more than unified communications, it is a collaboration platform encompassing chat, meet, calls, file sharing and more – all in one application. 
One of the most noticeable differences between Teams and Skype for Business is its messaging capabilities. Users can access every private or group chat and view its full history. All conversations, regardless of when you left or were added to the chat, are available unless they are individually deleted.
Microsoft Teams users can include GIFs, stickers, files and emojis in chats. Users can also setup chats based on departments, project or user-specific channels. Threaded conversations allow users to participate in multiple conversations inside a single tab. If your colleague mentions your name in their comment, simply clicking on the notification will take you straight to the comment where you can reply. 
Microsoft Teams has been built from the ground up as a collaborative platform, Skype for Business is a unified communications platform with some collaboration features. In Teams, users can start a meeting with up to 250 participants from within a chat on the Teams application. There is a significant improvement in both audio and video conferencing capabilities in terms of speed, clarity, and additional features. Users can either share the desktop, a screen or single application and use advanced features like translation and transcription for improved communication and collaboration.
Flexible, Affordable Voice Calling
Microsoft Teams is similar to Skype for Business Online in terms of its voice capabilities. It integrates with the Phone System feature that is a part of Microsoft 365 Business and Enterprise plans to enable PSTN calling. Organisations can choose their own telephony provider with Direct Routing or use Microsoft's own Calling Plans. 
However, Skype for Business Online needs Skype for Business Server or Cloud Connector Edition for PSTN calling. Whereas, Microsoft Teams does not require additional on-device software or on-premise hardware.
Another aspect where Teams is superior to Skype, is the ability to save and store files within the Teams application. Files shared in chats are stored in SharePoint site and searchability in Teams is extended to content and people. The use of SharePoint within the Teams interface simplifies collaboration with colleagues who can be notified with @mentions. 
Microsoft Teams can integrate more than 700 third-party applications from the "Apps" tab within the application, improving productivity. With the "Apps," users can access certain services without ever leaving the chat window.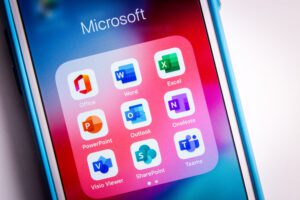 As a Microsoft Silver Partner, Infinitel is now placed within the top 5% of Microsoft partners worldwide, putting us in an elite group who are able to provide an unrivalled level of knowledge and advice regarding Microsoft products and services. We've got decades of experience when it comes to helping businesses to revolutionise the way that they communicate and collaborate. With Direct Routing from Infinitel, you can make and receive external calls within Microsoft Teams without requiring Microsoft Calling Plans or on-premise equipment. By using Infinitel's SIP Trunks to route your calls over the internet, Direct Routing provides high-quality voice services anywhere in the world, creating an even more powerful workplace productivity and collaboration tool.  Get in touch with our team today for the answers to any of your questions regarding Skype for Business Online's retirement and replacing Skype with Teams. Alternatively, check out our blog page to stay up to date with the latest industry news and updates, keeping you one step ahead of the industry at all times.