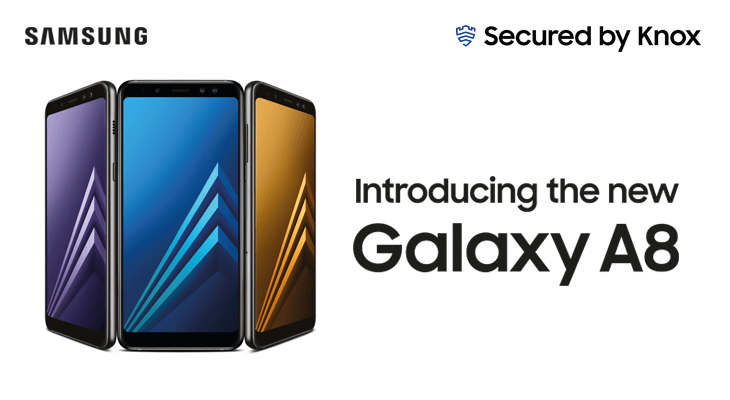 The Samsung Galaxy A8 and Galaxy A8+ are now available to order from Infinitel on O2, EE and Vodafone business plans.
The Galaxy A8 and A8+ have specs which might lead you to believe they are flagship phones; however they are perfectly priced for small businesses. Everything from the screen size to the memory, storage and battery size makes them a viable alternative to their £1,000 counterparts.
For businesses looking for a price friendly, but fully capable device, Samsung has struck the right balance with the A8 and A8+. The Infinity Display and the first Dual Front Camera with Live Focus are just some of the features Samsung has brought over from its flagship phones.
Premium features and affordability make the A8 and A8+ the perfect choice for business.
SAMSUNG GALAXY A8 SPECS
Designed to take security further. Fingerprint and face recognition means only employees can access their phones. Defence-grade Knox separates and protects work and personal data.
Designed to take style further. With a 5.6" immersive screen and a sleek, elegant design, A8 is easy on the eye, and comfortable in the hand.
Designed to take performance further. 4GB RAM, 256GB* of expandable memory and a fast processor means serious business. IP68 water and dust resistance means reliable protection**.
Designed to take the camera further. A8 precisely captures the details that matter, with a rear 16MP camera with low-light capability, and 16MP & 8 MP dual-front cameras.
*External memory may be used to store media (photos, video and music files) but not applications.
**IP68 water resistant up to 1.5 meters from up to 30 minutes. Rinse in fresh water afterwards.
To find out how we can help your business, click 
here
. We'd also like to hear from you. Contact our professional and helpful team on 0333 996 0029 or at 
[email protected]
 for additional information.