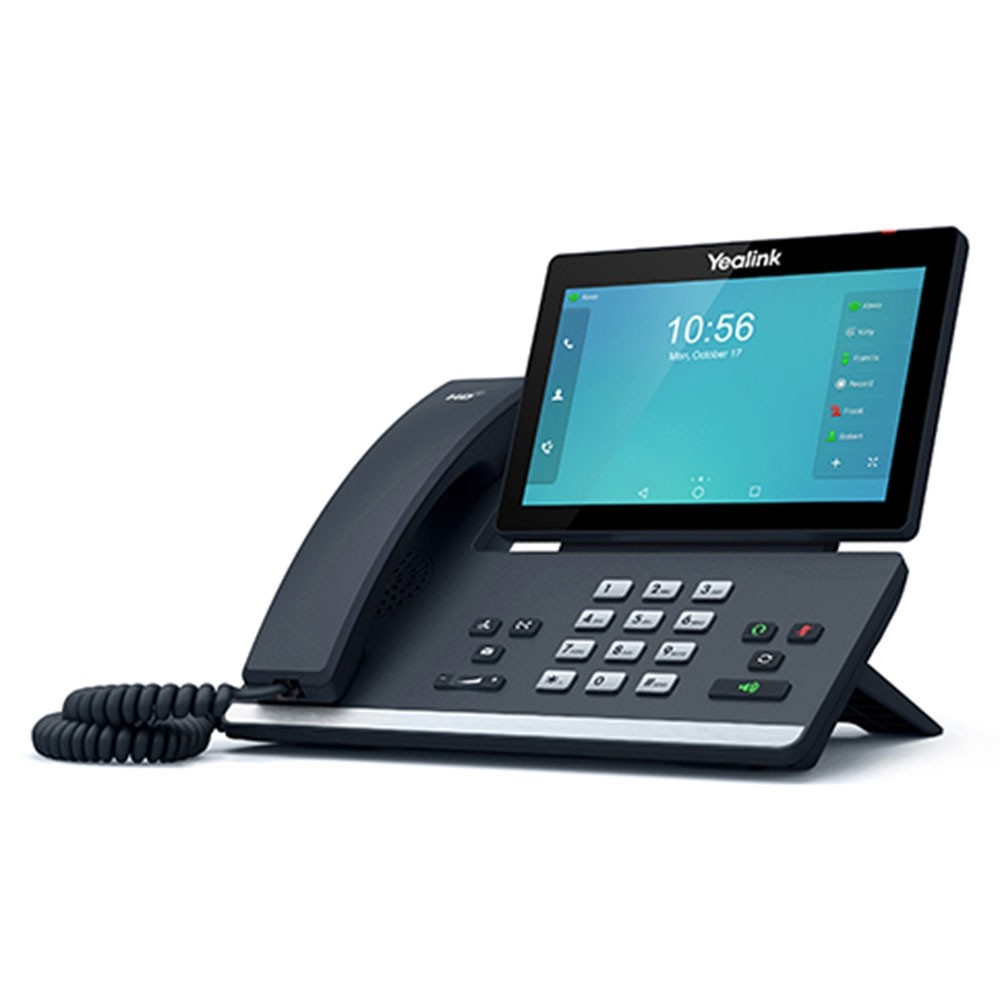 Yealink Android smart desk phones
Yealink's T5 smart media phones are now available from Infinitel.
Including the SIP-T58V, SIP-T58A and SIP-T56A the T5 smart media phone series is designed to enable productivity-enhancing visual communication with the ease of a standard phone. The T5 Smart Media phones give businesses of all sizes effortless customization and built-in ease thanks to the Android operating system, an industry-unique design and enriched features.
The T58V, T58A and T56A all have the standard features you would expect from a business phone, and more.
Enhanced HD Video and Voice for Exceptionally Clear Communication
T5S Smart Media Phones deliver crystal-clear immersive conversations thanks to Optima HD voice and Yealink Noise Proof technology that effectively eliminate non-human background noise.
The T58V and the T58A support HD video communication with Yealink's CAM50 (optional on the T58A). In addition to an adjustable seven-inch touchscreen interface, the phones enable users to access lifelike video calls easily and to adjust the viewing angle flexibly. Increase communication productivity by making every conversation clear, comfortable and focused.
One-touch Operation and Control
Yealink Smart Media Phones feature a seven-inch capacitive touch-screen for smooth and delightful operation and control. The intuitive. touchscreen enables users to access to and manage the telephony features with a simple touch of the screen.
The phones offer multiple adjustable elements, including an adjustable screen and camera on T58V(A), and a two-angle stand on T56A. This flexbility accomodates a user's preferred viewing angle and base height, and integrates into variety of usage scenarios.
IP Intercom Integration
Versatile and smart, the T58V and T58A integrate with IP video intercom systems.
Effortless Business Customisation
Yealink T5 smart media phones run on the Android 5.1.1 operating system. Administrators can install third party apps to improve collaboration and productivity.
Summary 
Businesses of all sizes will benefit from any device in the T5 smart media phone series. The SIP-T58V, SIP-T58A and SIP-T56A combine simplicity of use with sophisticated features, enabling complex tasks and enhancing productivity all with a simple process that is easy to manage.
We are seriously impressed by the functionality and ease-of-use of the Yealink SIP-T58V, SIP-T58A and SIP-T56A and you will be too.
ASK US ANYTHING!
Infinitel's team of professionals are ready to answer your questions and guide you to the right solution. Call us on 0339960029 or email [email protected]