Microsoft Teams has seen a huge explosion over the past two years. It has been absolutely pivotal in the way businesses have weathered the storm. But what if a Teams user wants to make a phone call to a customer or supplier outside of their organisation?
The Solution: Integrate 3CX with Microsoft Teams!
3CX now natively supports Microsoft Teams. Keep 3CX in the background offering all of the fancy features like call queues, digital receptionists and reporting etc, but link it to your Microsoft 365 tenant and use Teams as the 'softphone' client, or the 'front end' to make and receive calls from Teams.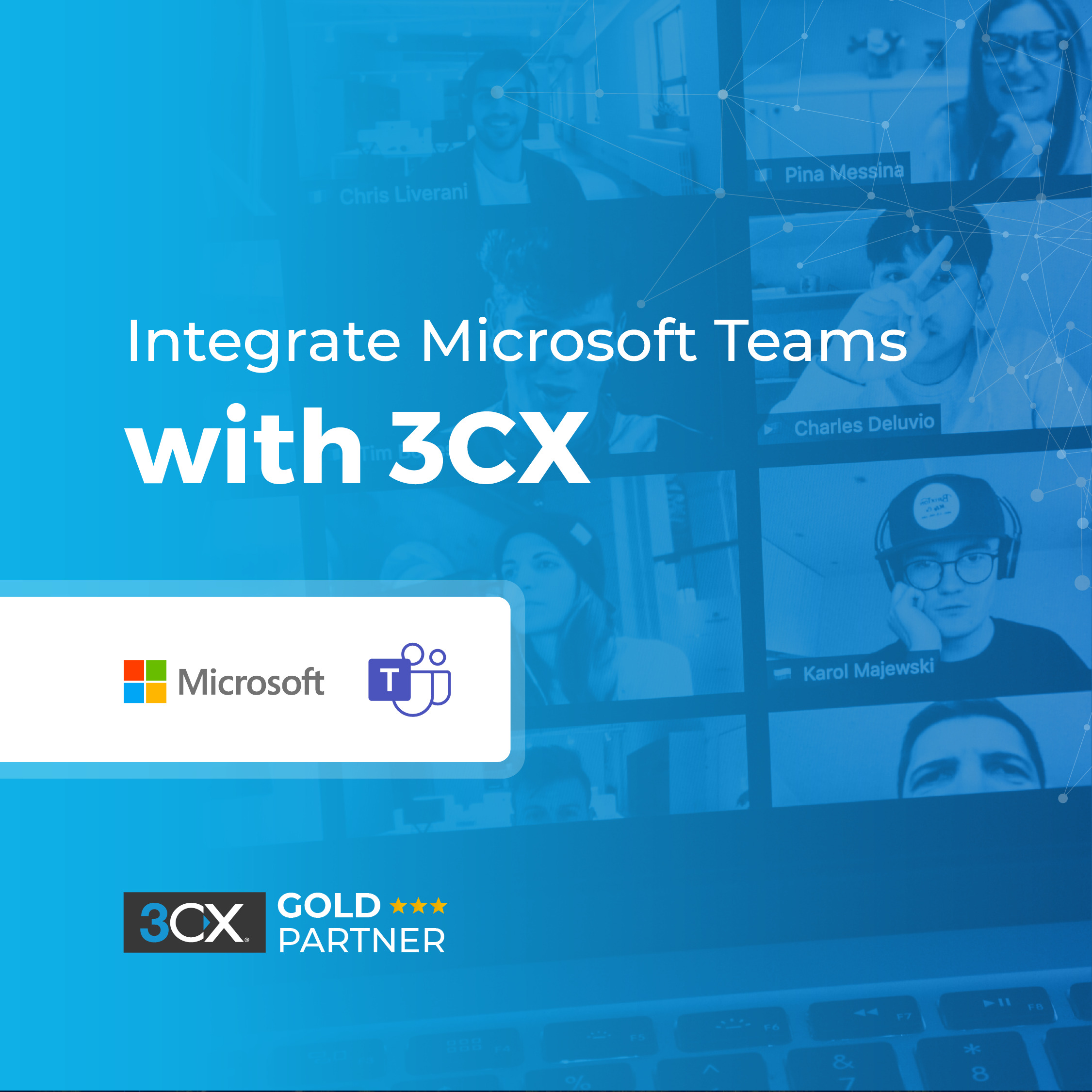 This provides a cost-effective alternative to Microsoft Calling Plans, allowing Teams users to make calls to external landlines and mobile phones from Microsoft Teams using Infinitel's SIP trunks.
Using Teams to make and receive calls couldn't be easier. Desktop application users will already be familiar with the way calls are made and received, easing the transition to using 3CX with Teams. Smartphone users have the benefit of being able to place calls over Teams to ensure a unified company presence by presenting the company main number when dialling out. This also has the added benefit of preventing staff mobile numbers from being used, bypassing company processes.
A call can be made in 2 easy steps:
Step 1
Navigate to the Calls tab and enter:
An external number (e.g Mobile or Landline)
An extension number to dial a user on 3CX (e.g 040)
A name to dial a user directly on Teams (e.g Brandon)
Step 2
Once a call is in progress the 'More' icon can be used to complete actions including placing the call on hold, transferring the call to another user and editing audio device settings.
The Benefits of Microsoft Teams Integration
If you are already running 3CX then adding this integration is a great option as it allows even more choice of how your end-users use the system. If you currently do not run 3CX and are looking for a phone system to integrate with Microsoft Teams then 3CX ticks all the boxes.
No additional hardware or 3rd party required to proxy the traffic
Simple set up and management
Save on purchasing additional Microsoft licenses (not everyone needs Teams)
Unify global organisations: Create routes to save on expensive international call traffic.
Reduce Admin: Sync Microsoft 365 to 3CX
Setting up Microsoft 365 integration not only allows Teams to be set up to make and receive calls but it will also create stronger synergy between the two platforms.
Sync Office 365 Users to 3CX Extensions
No need to separately manage two systems and create Microsoft 365 users as extensions in your 3CX Phone System. With automatic extension creation and Single Sign On (SSO) authentication, your Microsoft 365 users can login with a single click. No more looking for forgotten passwords!
Sync your status from your calendar
Sync your Microsoft 365 calendar with 3CX, automatically updating your 3CX status to reflect your availability. The updated 3CX integration module includes automation options to set your extension status and forwarding profile, based on your Office 365 calendar.
Sync contacts to your 3CX phone book
Enable your users do more with the 3CX apps: Syncing their personal contacts from Office 365 with their 3CX phonebooks, lets them have the best of both worlds. They manage their contacts through Office 365 and call their synced contacts directly from the 3CX apps!
Launch calls from Microsoft 365
With the 3CX Windows Desktop App and Click2Call capability, you can make calls directly from the Microsoft 365 interface. Simply click on a contact to wake up the dialler. Incoming pop-ups ensure you never miss a call or chat.
To further limit the administrative overhead of managing two systems, Microsoft Teams groups can be used to replicate user group assignments in 3CX. Teams group owners will be assigned an admin role, and members will be assigned the user role within the 3CX groups. This also allows owners of the Teams group to add and remove users from the Teams group which could have a dynamic effect if a user is to use a 3CX outbound rule or not.
Link your 3CX profile status to Microsoft Teams presence. This will allow users working predominantly in the Teams app to set the 3CX forwarding rules from their Teams application. Additionally, 3CX knows if a Teams user calls another Teams user or if they have just entered a Teams meeting. This will indicate to all 3CX users that that user is currently in a call and the correct forwarding will be applied. The same will apply in reverse. i.e. When a Teams user picks up a call from an IP phone connected to 3CX, users in Microsoft will be informed that that user is on a call.
Conclusion
End users all want choices. By integrating Microsoft Teams with 3CX you are giving them just that, choices. Microsoft Teams integration is available with 3CX Enterprise license. With that in mind, we are offering any existing Professional edition license holders a free upgrade to Enterprise. That means if you just renewed your subscription you will get one year free to try out 3CX Enterprise edition!
Want to find out more about how you can integrate 3CX with Microsoft Teams? Just get in touch with us today to discuss how we can help.