The Infinitel team are proud to announce that we are now a 3CX Silver Partner! Founded in 2005, 3CX is a global leader in business communications and the fastest growing communications solution with more than 250,000 customers and 5m+ users, including Air France, the NHS, Best Western and PepsiCo.
3CX sells exclusively through a network of worldwide partners, with each 3CX Silver Partner starting out as a partner in training and progressing through the tiers based on sales volume and technical certification. Infinitel has demonstrated sales growth, and our engineers have achieved advanced certification – this ensures we have the specialist knowledge to deploy, manage and support 3CX VoIP Phone Systems, allowing us to provide the best possible service to our customers.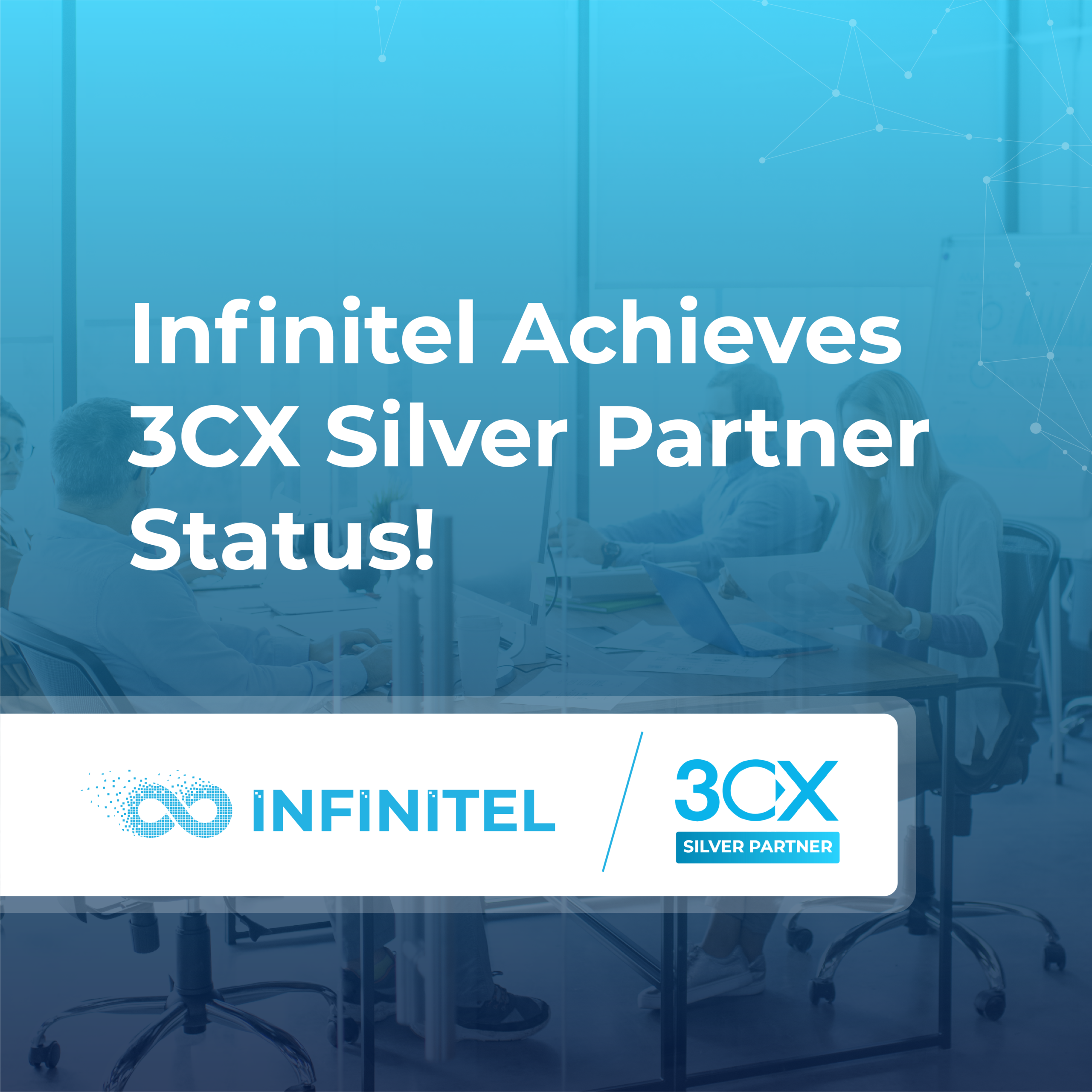 When using a 3CX phone system, you benefit from a complete communications platform, which provides a simple, flexible and affordable solution to call, video and live chat. 3CX is compatible with popular IP Phones including Yealink and also includes remote-friendly smartphone and browser apps, allowing your team to work form anywhere with an internet connection. It's easy to use, easy to manage, and incredibly cost-effective. When you're looking to implement 3CX, you must be working with a telecommunications partner that you can trust, who understands both your needs and the product that they're implementing and supporting; by working with a less experienced vendor, you're risking a poor quality job being made of your vital communication infrastructure, which could be disastrous. Read on to learn more about our 3CX Silver Partner status and how this could benefit your organisation!
Andrew Platt, Managing Director of Infinitel said this of the recent Silver Partner announcement:
"We're delighted to achieve 3CX Silver Partner Status which reflects our sales growth and knowledge in deploying and supporting 3CX for businesses in the UK and internationally.  Thanks to the whole team at Infinitel for all their hard work in achieving this milestone. Our sights are now set on achieving Gold Partner status by the end of the year."
For more information on your telecommunications setup, get in touch with our team here at Infinitel today! Our experts are on hand by phone each day to help you find the ideal communication and collaboration solutions for your business, so be sure to reach out if you have any questions or queries regarding the different platforms that are available and how each one can offer different benefits to your business. By taking the time to chat with our team, you can be sure that you're getting a tailored solution that's designed to meet your needs as a business. 

How were we awarded Silver Partner status?
As with any partnership, it's all about mutual respect and adding value to your service, which is exactly the case between Infinitel and 3CX. We've got a huge amount of admiration for 3CX, which give users a practical yet flexible way to ensure that communication is made the number one priority, without barriers standing in the way. To become a 3CX Silver Partner, we've had to meet sales targets and demonstrate a high level of expertise in VoIP as well as deploying, managing and supporting 3CX systems, with our engineers achieving the 3CX advanced engineer certification – by achieving this status, it shows that we're experts in both VoIP and 3CX, which allows us to provide reliable and trustworthy solutions to our customers that many other providers would not be able to execute proficiently. Now that Silver Partner Status is achieved and we're able to harness the benefits of this to improve the service that we offer to our customers, the next goal is to achieve Gold Partner status, which is a highly coveted position that would further exemplify our deep, detailed knowledge and experience in the telecommunications sector. 
So what is this going to mean for our customers? Here's what Infinitel's Managing Director, Andrew Platt had to say:
"Achieving 3CX Silver Partner Status is an important milestone which gives Infinitel the credibility we deserve and reflects our proven track record in deploying and supporting 3CX for organisations of all sizes.  This status gives our customers the confidence that they are working with an experienced and knowledgeable partner who are fully-trained and certified in selling and supporting 3CX. Don't just settle for any phone system, choose fully managed 3CX from Infinitel."
So what exactly are the benefits for our customers? Essentially, as an Infinitel customer, you'll benefit from a seamless installation and premium support when it comes to your 3CX system, helping you to get the most out of your investment with the help of accredited and knowledgeable experts. By increasing your ROI on this investment in technology, it becomes much easier to see the true value that unified communications solutions can bring to your business over the long term. For our customers, here are some of the major benefits that you'll enjoy when implementing 3CX with us:
As a business, you'll want high-level performance for a low cost, which is exactly what you're able to achieve with the 3CX platform. Pricing is based on the number of concurrent calls needed; there is no per user cost which is common with most cloud phone systems. With 3CX, you only pay for the maximum number of concurrent calls that you need; helping businesses make big savings on their monthly telecommunications bills. 
If all of your communication is being based on your telecommunications infrastructure, it's vital that you know you can count on it to perform around the clock. 3CX is a tried and tested solution with over 250,000 customers across the world, which really does speak for itself. If you want a tried and tested solution, few providers hit the mark as well as 3CX. 
Choose Infinitel and benefit from a fully managed service including hosting,  server monitoring, maintenance & software upgrades. We also include SIP which are 3CX certified and follow strict interoperability testing with 3CX to ensure we offer a seamless experience to customers.  
Infinitel is one of the leading voice providers in the industry. With decades of experience, we are an independent voice provider carrying millions of minutes for organisations each month. All backed up by a true 99.99% uptime SLA and 24/7 support from our dedicated support team of experienced, 3CX certified engineers.
Thanks to their passion for innovative technology, 3CX have been collecting awards left, right, and centre, making them one of the most highly regarded Unified Communications platforms in the industry. After winning Digital.com's Best UC Software Company award in March 2021, and the UC Platform Supplier of the Year award at the 2020 Comms Business Awards, it seems like the only way is up! For customers, this means that you can expect exciting new developments and improvements in 3CX's products in the coming years.

Working with Infinitel
For those who feel ready to take the leap and integrate 3CX into their business operations, get in touch with our expert team here at Infinitel! Our team will be able to learn more about your business needs, then advise on the ideal solution for your needs, including hardware such as supported IP Phones and headsets. We can also help you integrate your CRM, website live chat, Facebook and text messages all in one system.  After this, it's simply a case of implementing 3CX and setting your business on the course towards improved communication and enhanced productivity! 
If you feel like there's still some consideration needed regarding the platform that you're looking at using, or if you'd simply like to learn more about the different options that are available to your business, you can head over to our dedicated pages right here on our website. We've got pages detailing everything from platforms such as 3CX and Microsoft Teams Direct Routing to SIP trunking,  business internet, and more, so you're sure to be able to find the information that you need to make an informed decision for your company. For any further support, please get in touch with us online or by calling us today!