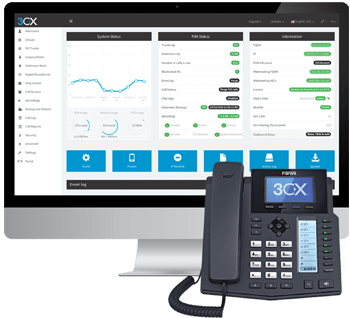 3CX has announced the launch of 3CX v16. V16 takes corporate communications to a new level by integrating innovative call centre and contact centre features – enabling companies to be contacted from their website – via chat and voice at no charge.
With v16, customers have more ways to reach out, and 3CX ensures that those who reach out are handled more effectively and efficiently with new call centre functions such as skill based routing, web based SLA monitoring and better recording management. Know who is calling and whether they have called in the past with better CRM integration.
Beyond call centre and contact centre features, 3CX has increased performance and security, as well as improved administration, chat, video conferencing and Office 365 integration. It's the first communications system to run on a Raspberry Pi.
Next Generation Customer Communications: 3CX Live Chat & Talk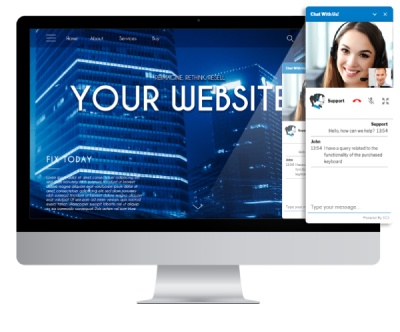 Customers want more and easier ways to reach out to companies. With 3CX's new Live Chat & Talk plugin a customer can visit the company's website and click to chat or click to talk to an agent. It's easy for the customer, the call is free and the customer can be handled more effectively.
3CX is unique in this ability – not only in its live chat integration but in its ability to allow a chat to be elevated to a voice call. Integrated live chat not only wins customers, it saves agents having to learn and check separate systems as well as eliminating additional administration and monthly recurring costs. 3CX Live Chat & Talk comes as a WordPress plugin for easy installation or can be added to any website via script. It's set to be a game changer in the PBX market.
Call Center Features taken to a new level
But today's call centre requirements have not been forgotten. 3CX completely reworked its call centre module:
Skill-based routing distributes calls based on agent skill.
Retrieve customer details and journal calls from Popular CRM systems and databases.
Monitor inbound call quality and SLA with new pop-out web-based switchboard.
Manage agent performance with revamped call reports.
Improved Call Recording Management

Advanced search
Call transcription
Remote archiving to Google Drive or NAS
Team Communications 2.0: Chat, Web Softphone & Office 365 Integration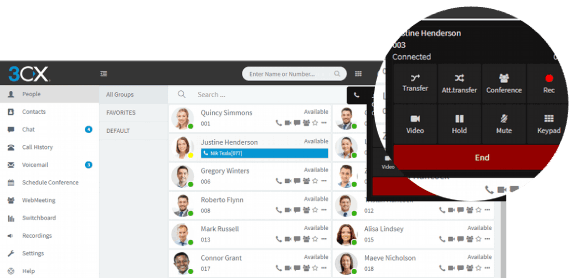 Team communications will take a step forward too with v16:
Web based WebRTC softphone allows calls to be taken from a browser – or to easily control calls on an IP Phone or Smartphone.
Seamless Office 365 integration – Contacts and status are synced real time – server level Integration now supports all Office 365 subscriptions.
Greatly improved corporate chat with support for files, images and emojis.
Support for CRM diallers allowing launching of calls from the CRM interface.
Integrated Open Standards Video conferencing – 3CX WebMeeting
Gone is the need for a separate video conferencing subscription: 3CX's unique integrated WebRTC based web conferencing feature just got even better:
Ability to dial-in to a web meeting by phone.
Smoother meeting experience with optimized bandwidth usage.
New global network of video conferencing servers hosted on Amazon and Google delivers superior reliability.
"Browser extension-less" screen sharing.
Support for competitively priced Logitech Conference Room cameras and systems.
Cut costs, admin and learning curve of running a separate disparate web conferencing system.
Welcome to Valhalla: More Security, Less Admin.

And v16 makes IT admins' and resellers' lives easier with:
Multi Instance Manager – Manage and monitor multiple 3CX instances from a single portal.
Auto Sync users with Office 365 – ease extension management
Improved Security:

Global IP blacklist – constantly updated with latest hacks reports
Updates to latest components and OS
IP whitelist for the 3CX management console.

Run 3CX on Raspberry Pi for installs with up to 8 Simultaneous Calls (SC)
Drastically reduced memory and processor usage lower cloud instance requirements.
Call Quality reporting via RTCP statistics.
A "Copy Extension" function and other admin usability improvements.
How to Get v16
To find out more, please call our friendly and professional team on 0333 996 0029 or email us at [email protected] for additional information.